nAbleMD is 2015 Cures Edition Certified

This certification enhances several important functions including integrated API access, updated data elements, and other features leading to better patient healthcare outcomes.

Click to View Details
Whether you're setting up a new practice or upgrading an established practice, nAble is designed to be intuitive and cost-efficient—while still being specialized and tailored for you.
Your practice is unique, your EMR should be as well.
nAble EMR and Practice Management solutions are designed ground up for your specialty and your practice style—don't get stuck with boxed software.
A solid framework builds a strong practice.
15 years of experience with solo to large practices means it's easy to get in touch with our customer support team through phone, chat, and email—or to use our extensive help material.
Run your practice like a well-oiled machine.
Document your patients faster with nAble's native web and mobile-first design, so you can see more patients in less time.
Connect with your patients like never before.
Engage with your patients outside the exam room with our built in tools—your patients can make appointments, message the clinic, request referrals and refills are so much more.
Access your practice from any web and mobile device.
Your practice is always in your hands with our web and mobile interfaces, designed for fast and easy access.
One simple solution for every aspect of your practice.
We provide you a seamlessly integrated end-to-end solution for your unique practice, from your billing to records, and your staff to patients.
It only takes 90 seconds to see how we are different.
With tools for your Mac, PC, tablet or phone, you are always connected. It's medical software flexible to your needs that's simple, powerful, and just works.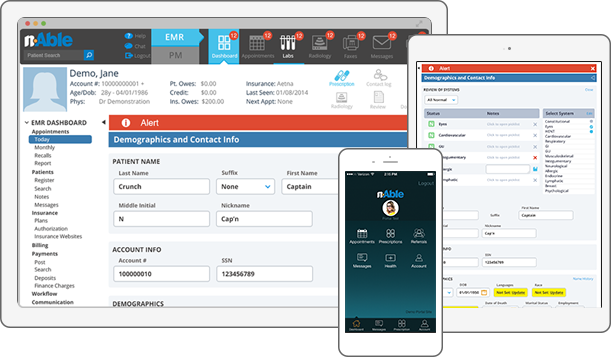 Happy Clients
We love to keep our clients happy and it shows by what they have to say.
"
I highly recommend nAble and not just for fertility or OB/GYN but
for any type of medical practice.
"
Houston Fertility Institute
"
The software is so user-friendly and
if there is something you need help with the
technical team is phenomenal.
"
Houston Fertility Institute
"
I love that the first thing you see when you log in
is your current claim rejections. It makes fixing the errors and
getting the claims resent a breeze.
"
Houston Fertility Institute
"
I know we don't say it enough but we are so happy with your product.
Thanks to everyone whom work together to make our
facility operate efficiently.
"
Southern Medical Care
"
Thank you so much for all you do to keep us on track and
for your consistently personalized service!
"
Dickerson Pediatrics
"
We absolutely love this software. Both the EMR and billing systems
are seamlessly integrated and very user-friendly.
"
Memorial OB/GYN
"
I would highly recommend nAble to anyone considering EMR.
"
Diana Eisner, M.D., Pediatrician
"
We love the preoperative counseling and informed consent,
and the tracking system for the labs is excellent!
"
Memorial OB/GYN
"
The thought of all the work of EMR conversion was daunting.
nAble has been a tremendous help getting this done.
"
Diana Eisner, M.D., Pediatrician
"
Excellent patient record keeping,
for both medical information and billing software.
"
Memorial OB/GYN
"
nAble has been able to adapt the system for the needs of my specialty,
and my particular way practicing medicine.
"
Diana Eisner, M.D., Pediatrician
"
With insurance hassles and medical records compliance issues,
this is an excellent asset for any physician practicing medicine.
"
Memorial OB/GYN
Previous
Next
FAQ
Got Questions? We've Got Answers
Is nAble certified for Meaningful Use?
What about technical support?
We offer personalized customer support. We are available for you via integrated chat, email, or live by phone at 877-290-2536.
What can I do with nAble?
nAble is a comprehensive practice management software platform, includes charting, scheduling, billing, e-Prescribing, lab integrations and integrated secure messaging. With simple set-up, you can access all these features on multiple platforms — mobile devices, desktop, laptop.
Is the system secure?
Your EMR account is HIPAA-compliant and protected by the highest levels of encryption. We conduct regular third-party audits to ensure that your data is safe.
Which physician specialties can use nAble?
Any practice can use our web-based physician office software. nAble is flexible and customizable to whatever your practice speciality may need. And through our comprehensive product array—Mobile EMR, Patient Portal, Mobile Apps, and nAble Kiosk.
What kind of hardware and computers do I need?
All you need to get started is a computer with web access. You may also use nAble on your iPhone or iPad mobile devices.
How many users can I have in my practice?
There are no limits on the number of users, records or patients you can have in your nAble account. nAble grows as you grow.
Can I connect to labs?
Yes. We can integrate your EHR account with numerous national and regional labs.
How does nAble compare to other EMRs and Practice Management systems?
nAble offers tailored solutions specific to your individual practice and personalized customer support—all at a more affordable price than most other providers. Also there are no upfront costs and no long-term contracts.