Cloud-based EMR
nAble was designed from the ground up as a web-based system, it is simple to use, specialty specific, and can be tailored to your style of
practice and preferences.
Innovative & Integrated
Keep what you earn with our 2015 Edition certified EMR, with built-in Meaningful Use guidance.
Speed up exams with our leading-edge learning diagnosis templates and customizable workflow.
Centralize your practice with easy lab, Practice Management and patient engagement tool integration.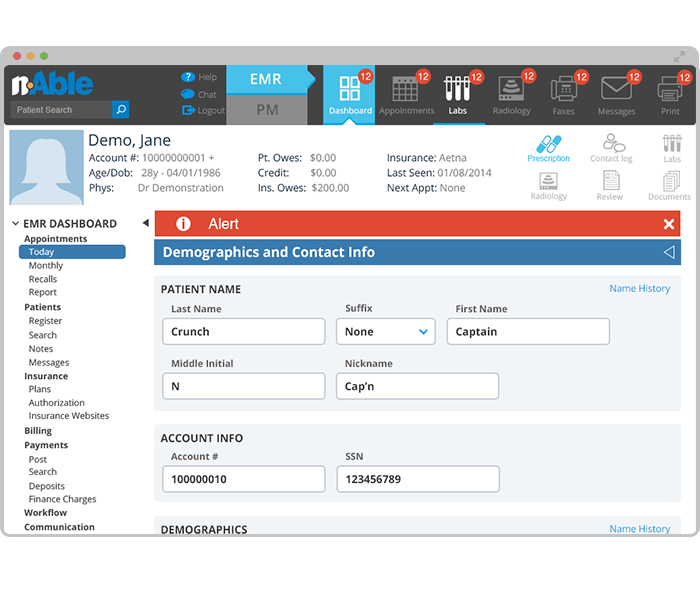 ---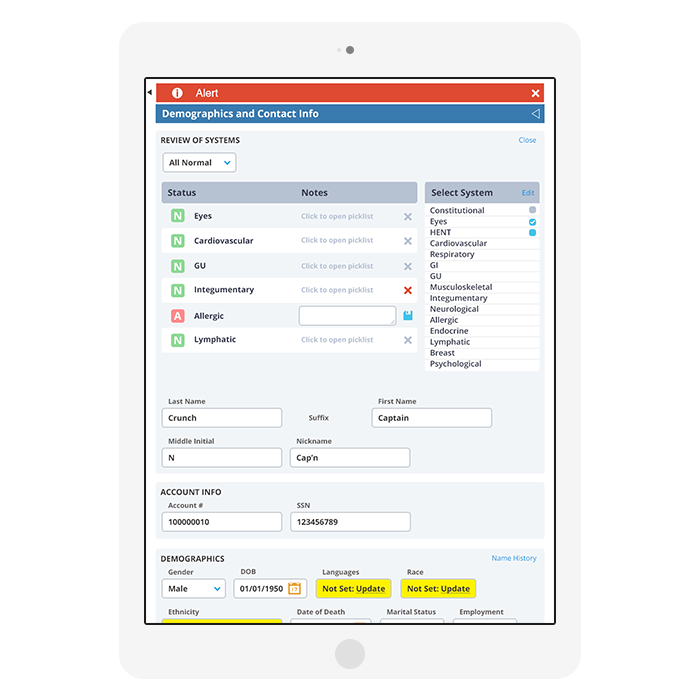 Powerful & Specialized for you
Customized and specialized, our EMR is individually tailored to your specialty and your needs.
Seamlessly manage your small or large practice with powerful reporting and order tracking.
Work from your computer or your iPad or Android tablet with our specialty-specific mobile EMR.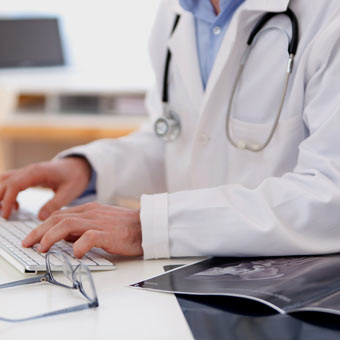 Value
nAble saves you money by increasing office efficiency and productivity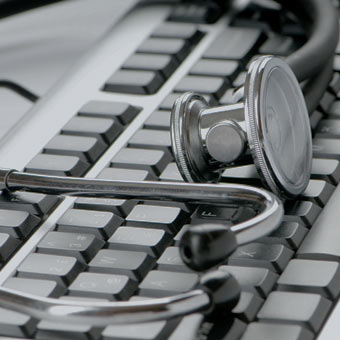 Technology
Manage the entire clinical and patient workflow using one application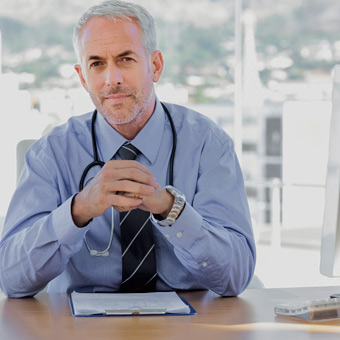 Passion
Our commitment and dedication is for physicians like you to succeed
Practice Management Simplified
Efficient management has become more important than ever before. nAble PM system is designed to streamline and automate most of your billing, collection, and practice management tasks.
Grow and automate your practice
Grow your business with iPhone and Android patient portal apps and marketing & engagement tools.
Be ready for the future with our ICD-10 ready coding and billing, and conversion tools, already built-in.
Automate your practice with electronic claims submission & follow-up and eligibility verification.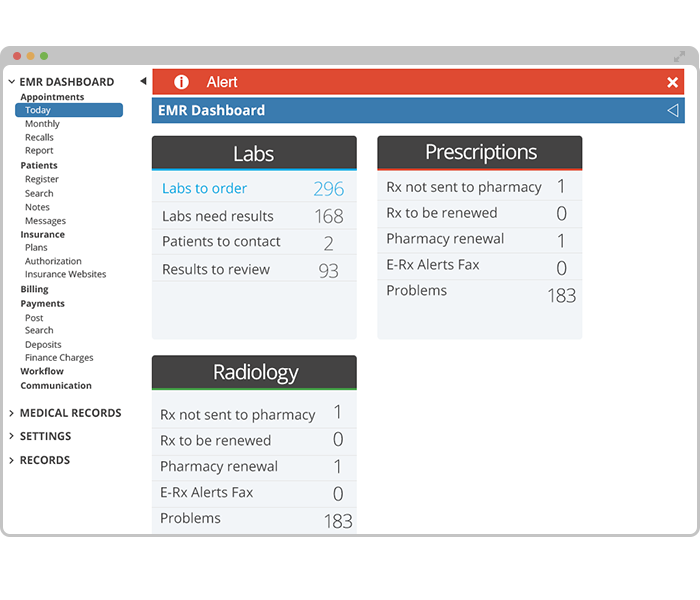 ---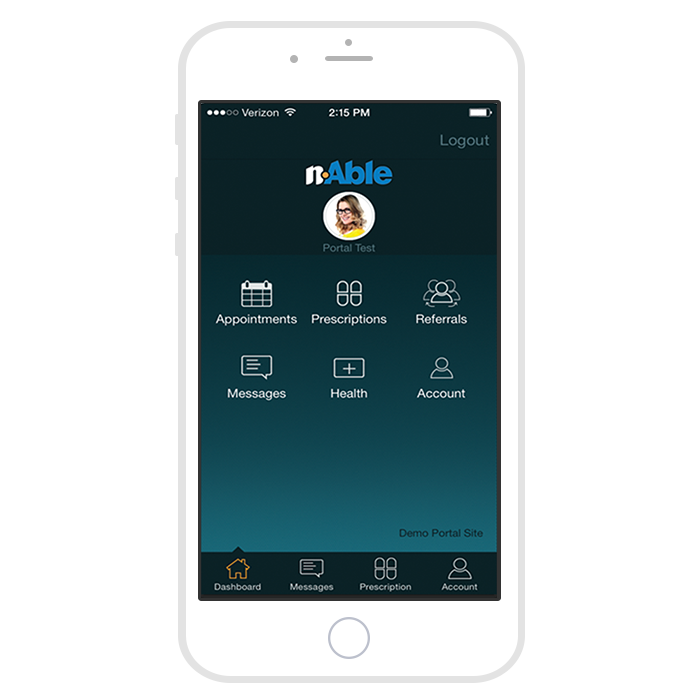 Simple tools to boost productivity
Make running your business easy with extensive financial, collections, and administrative reports.
Easily manage scanned patient documentation with integrated document management tools.
Quickly fax, using our fax sending, reviewing, and annotating tools built in free of cost.
Certified EHR Technology
nAble EMR is web-based, ONC-ATCB certified, and Meaningful Use ready. Learn More
nAble is ICD-10 Ready
Don't worry about the transition to ICD-10, nAble is ready for you.
Outstanding Support
Highly responsive email and phone support keeps your practice running smoothly.
What's in it for you?
Benefits Overview
Three ways nAble keeps your practice productive and moving.
Flexibility and Ease
Managing your practice doesn't have to be intimidating. nAble offers seamlessly integrated solutions with unparalleled flexibility and ease.
Intuitive and Smart
Web-based software means nAble is easy to learn and quick to use, and makes setting up a new practice or updating an old practice a breeze.
Specialty Specific
Don't waste your time with generic software, nAble has tailored workflows specific to each specialty, so you can work more efficiently with less hassle.
Personalized Support
We take the time to understand your specific needs and expectations. We're committed to providing the best support available.
Save Money With nAble Portal
With a few clicks you have access to some of the most powerful tools on the market to connect you, in a few touches, to all your patient records, your schedules, your billing, and so much more.
No Setup Cost
Unlike more traditional EMRs, nAble has a low up-front cost and free upgrades, because going digital shouldn't be a leap of faith.
Spend Less
Need to run multiple practices with multiple physicians? nAble seamlessly integrates all your records and billing, so you are in control.
See More Patients
The key to running a good practice is efficient work flow, and with nAble you have can access and edit everything with just a few clicks.
Empowering Physicians Across the Country
Our Practice Management and EMR power up your practice with cutting edge mobile software, and keep you data safe and sound with back-ups in multiple data centers around the nation.
Anywhere, Anytime
Our web-based and mobile software keeps your practice at your fingertips, while our redundant systems keep your data available in rain or shine.
Data Encryption
You determine who has secure access to your data kept in high security, encrypted servers with backups in multiple locations.
Risk Management
Reducing your risk is as precious to us as it is to you. nAble has built in tracking of records, claims, and orders so you never miss a beat.